FULL RUN? Marvel Super Heroes Secret Wars CGC NM/M Signature Series & Sketch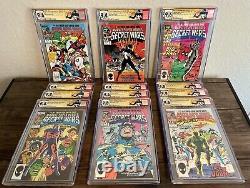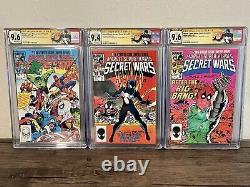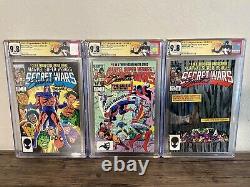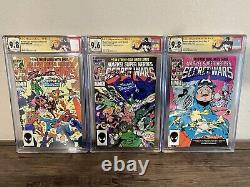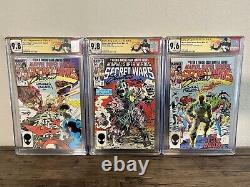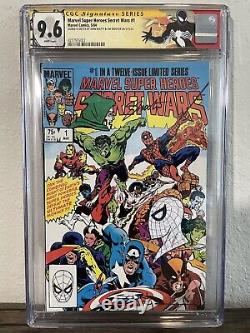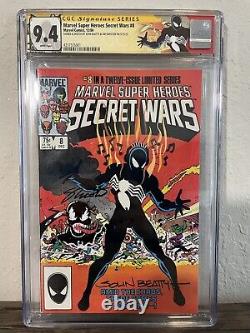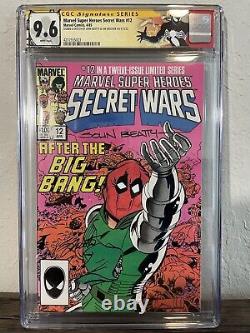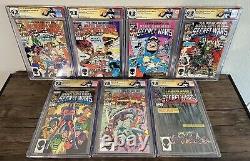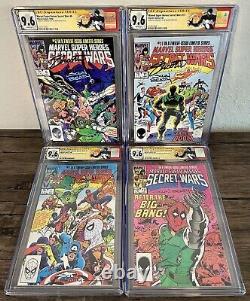 FULL RUN of the 1984-85 Marvel Super Heroes Secret Wars comic book crossover limited series in CGC 9.8-9.4 Signature Series. The first line-wide crossover event series? ALL issues are doubled signed by Jim Shooter and John Beatty? Issues #1, #8, and #12 are all doubled signed AND double sketched? THESE SKETCHES ARE TRULY INCREDIBLE!! Secret Wars #1 (1984) - 9. Sketch includes Doctor Doom in Color and Spider-Man in White.
1st cameo appearance of the Beyonder as a white light and a voice. Secret Wars #2 (1984) - 9.8 (Signed). 1st appearance of the second Titania, Mary McPherran. Secret Wars #4 (1984) - 9.8. Secret Wars #5 (1984) - 9.8.
Secret Wars #6 (1984) - 9.6. 1st cameo appearance of the second Spider-Woman, Julia Carpenter, a shadow in the final panel. Secret Wars #7 (1984) - 9.8. 1st full appearance of Spider-Woman, Julia Carpenter.
First battle of She-Hulk vs Titania. Secret Wars #8 (1984) - 9. Sketch includes a special drawing, a play on two of venoms biggest weaknesses, fire & sound. This is probably one of the best sketches I've ever seen, appearance and meaning wise.
Also includes Venom in Color. Origin of the black symbiote costume that later bonds with Eddie Brock to become Venom. Secret Wars #9 (1985) - 9.8. Secret Wars #10 (1985) - 9.8.
Secret Wars #11 (1985) - 9.6. Secret Wars #12 (1985) - 9.
Sketch Includes a special tribute to Deadpool's Secret Secret Wars comic series and Doctor Doom in Color. She-Hulk joins The Fantastic Four, chronologically. Here is an explanation of the Deadpool sketch.
The new retelling in 2015 of Secret Wars brings Deadpool into the original Marvel crossover. Like Magneto, he's sorted into the heroic side to his surprise, despite his more murderous inclinations. He fights alongside the superheroes in the ensuing battles and despite his antics, Deadpool does a lot to help his fellow heroes. At one point, he even directly saves Captain America from a surprise attack by Kang.
While he's inside the heroes new base, Wade ends up bonding with the Venom symbiote before Spider-Man ever gets the chance to. His own madness ends up influencing the symbiote after it tries to meld with him. This could be held up as the reason the symbiote became such an unstable villain. When the heroes are given the chance to wish for anything, Wade's involvement in Secret Wars is forcibly forgotten by everyone except Deadpool.
However, the effect was too strong and erased the memory from all the other heroes as well. Clearly Shooter and Beatty approve of Deadpool's involvement?
Writer Cullen Bunn & X-men senior editor Jordan B. White both consider this to be CANON! Giving credibility and inclusivity to Deadpool's involvement in Secret Wars.
Avengers: Secret Wars will conclude Marvel Studios' Phase 6. Movie is set for release in May of 2027. Please contact me if you have any questions!