Walking Dead #100 Lucille Variant CGC 9.6 SS Signed Robert Kirkman 1st Negan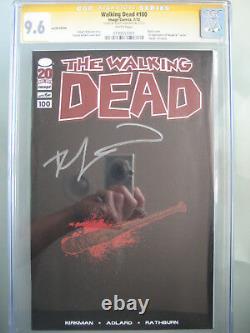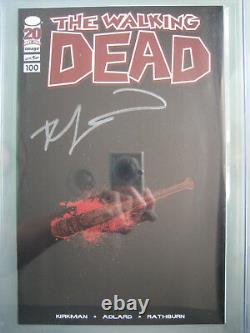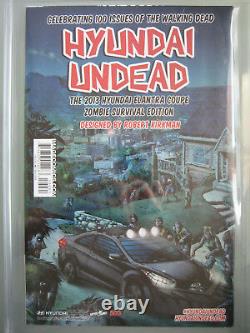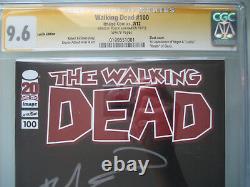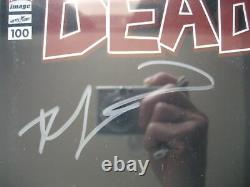 July 2012 Image Comic s. Robert Kirkman (Story) Charlie Adlard (Cover & Art). The three Saviors that were seen in Issue 99 are complaining about the plan to attack the Alexandria Safe-Zone at dawn. One of them says that he is going to head for an unknown man by the name of Paul, whose group is farthest away.
The Alexandria Safe-Zone citizens are seen praying for their lives. Spencer approaches Andrea while she is keeping watch on top of the wall. Andrea is reluctant to talk to him when he starts to mention her and Rick, possibly thinking he's going to act jealous, but he instead reveals that he's happy for her and Rick. Eugene is seen mourning over Abraham's grave, while Gabriel is in the church, praying. Aaron and Eric prepare for The Saviors, taking an inventory of the Safe-Zone's guns and ammunition.
While on the road, Michonne states that the group will not make it to the Hilltop Colony in time. Glenn is still optimistic about it but they stop the van for the night. As Michonne takes first watch, Rick thanks her for everything, and says they'll have to be on the road by dawn.
Rick says goodbye to Glenn, and states that he is happy for him. Later, as Michonne kills a few roamers, Rick takes over her shift. Rick sits on top of the van, barely awake, when suddenly a man catcher is put around his neck and he is pulled off the van. The perpetrator turns out to be the Savior Rick spared on the road earlier to deliver a message to Negan.
He taunts Rick, before ordering one of the three Saviors accompanying him to signal the rest. The Savior fires his gun in the air. The survivors rush out of the van only to find Rick being held hostage.
Before they can even get their bearings, a truck pulls up carrying a massive group of Saviors. A man carrying a modified baseball bat asks for the leader, so the Savior that captured Rick identifies him as such. The man introduces himself as Negan. The Saviors line up the survivors from the van (Rick, Carl, Glenn, Maggie, Sophia, Michonne, and Heath) on their knees before Negan. Negan informs the group that he wants revenge for the dead Saviors that Rick and his people killed. Negan then dictates the terms for the group's survival; everything in the Alexandria Safe-Zone now belongs to the Saviors. Negan further states that there is a new world order and that Rick and his people now follow Negan or they will die. Negan then tells Rick that he is going to kill one of the group to show Rick's people that he is in charge. Negan introduces his weapon of choice for the execution: Lucille - a baseball bat wrapped in barbed wire. After a long narrative from Negan about who should be killed with Lucille, Negan randomly picks Glenn as his victim by playing a game of "eeny, meeny, miny, moe".
Maggie panics, as Glenn begs Negan not to kill him. Rick tries to intervene, but Negan snaps at Rick, telling him that there are fifty men surrounding them and they will all die if they try to stop Glenn's execution. Rick and the others remain silent and watch in horror and cry with bowed heads as Negan smashes Glenn's head in with Lucille. The first blow fractures Glenn's skull and pops out an eye. Everyone cries, looking horrified and angry at Negan.
Negan then taunts the still conscious and now brain-damaged Glenn, who reaches out and calls for Maggie. Negan then repeatedly and brutally smashes Lucille into Glenn's head, leaving a mass of broken bone, smashed brains, and spattered blood. Still crying for his friend, Rick angrily tells Negan I'm going to kill you. But I WILL kill you. Negan gleefully tells him that he won't, as his best chance is right now.
He challenges Rick to do so, though ensuring him that as soon as he does, the Saviors will kill the survivors on the spot. He also threatens to have his men gang rape Carl if Rick continues to act defiantly. After slapping Rick around, Negan once again reiterates that he's the one in charge now. He informs Rick and his group that The Saviors will be back in one week to collect half of everything in their community.
He turns around, leaving the survivors with Glenn's mangled corpse. The item "Walking Dead #100 Lucille Variant CGC 9.6 SS Signed Robert Kirkman 1st Negan" is in sale since Monday, September 9, 2019. This item is in the category "Collectibles\Comics\Modern Age (1992-Now)\Horror & Sci-Fi". The seller is "madeofmiracles925" and is located in Dublin, California.
This item can be shipped worldwide.
Modified Item: Yes
Country/Region of Manufacture: United States
Certification Number: 0199551001
Issue Number: 100
Certification: CGC
Main Character: Walking Dead
Featured Refinements: Walking Dead #100 Lucille Edition
Series: 1
Graded by: CGC
Grade: 9.6 NM+
Year: 2012
Publication Date: July 2012
Modification Description: Signature Series
Signed: Yes
Publisher: Image Comics